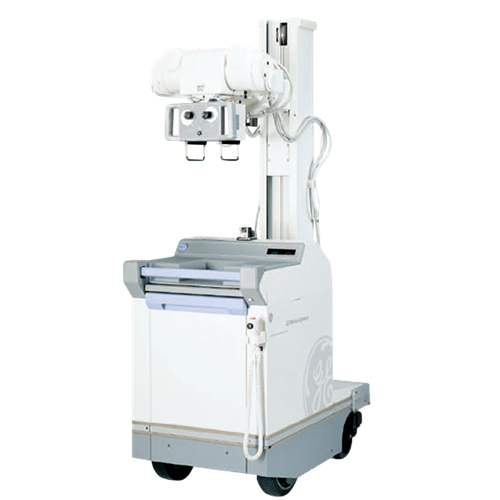 GE AMX 4 Plus Features
GE Healthcare's AMX 4+ analog X-ray system provides high performance in a compact, easy-to-maneuver package.
The rotating arm and tube simplify positioning and facilitate bedside studies, while the maintenance-free battery produces up to 50 high-quality exposures with a single charge.
Dual drive motors and oversize casters facilitate movement; even in taxing environments.
GE AMX 4 Plus Specifications
Dimensions
Height: 70 inches (1778 mm) for Models 2169360−6, 2236420−6, and 2275938−6, −12, −13, −14, −15; all others 76 inches (1930 mm).
Width: 25−3/16 inches (640 mm)
Length: 45−3/8 inches (1153 mm)
Weight: 1080 pounds (490 kg)
Environmental Limits
Operating temperature range: 59 to 100 Degrees Fahrenheit (15 to 38 Degrees Celsius) at 80% non−condensing humidity.
Storage temperature range −40 to +140 Degrees Fahrenheit (−40 to +60 Degrees Celsius)
Maximum operating altitude: 8,000 feet (2440 meters)
Battery Specifications
Nine 12.9 volt batteries connected in series provide approximately 116 volts at full charge.
Battery Capacity
The GE AMX 4+ battery capacity can be measured by one of the following five methods. All capacities are measured after the AMX−4+ has been charged to the "CHARGE COMPLETE" state. Available capacity as stated applies only to new battery sets free of defective cells. Capacity may decrease as the battery nears the end of its useful life.
Method 1: Exams
The GE AMX 4 Plus batteries will provide capacity for more than 20 typical EXAMs. An "EXAM" is defined as:

Two 70 kVp, 10 mAs X−ray exposures including:
> 7 seconds of prep (rotor and filament drive)
> 25 seconds of field light
5 minutes of drive time
9 minutes of idle time

The formula in the "VARIED USAGE" section can be used to determine the number of total EXAMs available for usage regimes different from this typical case.
Method 2: X−ray Exposures
The GE AMX 4+ batteries will provide enough capacity for 165 or more 100 kVp, 100 mAs X−ray exposures. Each exposure includes 4 seconds of prep (rotor and filament drive) time and 30 seconds of idle time for battery recovery. This number may be reduced by additional idle time required for X−ray tube cooling.
Method 3: Drive Time
The AMX 4+ batteries will provide enough capacity for 140 minutes of continuous drive time. This time is typically independent of driving conditions, however, it may be reduced if a significant portion of the drive is on carpeting or up ramps
Method 4: Idle Time
The AMX−4+ batteries will provide capacity for 23.3 hours of continuous idle time. "Idle" is the time when the AMX 4+ is ON but not being used.
Method 5: Varied Usage
For varied usage, the AMX 4+ batteries will provide capacity according to the following formula:

{ (idle time in minutes ) _ 3} +
{ (drive time in minutes ) _ 30} +
{ ( field light time in minutes ) _ 25 } +
{ ( prep time in minutes ) _ 30} +
{ ( exposure energy* ) _ 2.17} = 4200
*exposure energy = cumulative { ( kVp _ mAs ) _1000 }

EXAMPLE: Assume one desires to estimate the number exams available from an AMX 4+ used in a particular pediatric ward. It is determined that a typical exam for this case is comprised of:

Two 70 kVp, 0.8 mAs X−ray exposures including:

> 3 seconds of prep
> 15 seconds of field light
1 minute of drive
5 minutes of idle

Using the above formula we can estimate the number of exams as follows:

each EXAM uses { (5 idle minutes ) _ 3} + { (1 drive minutes ) _ 30} + 2 x [ { (15 _ 60 field light minutes ) _ 25} + { (3 _ 60 prep minutes ) _ 30} + { ( (70 kVp _ 0.8 mAs ) _ 1000 ) _ 2.17} ] = 60.7
therefore the total number of typical EXAMs available is: 4200 _ 60.7 = 69