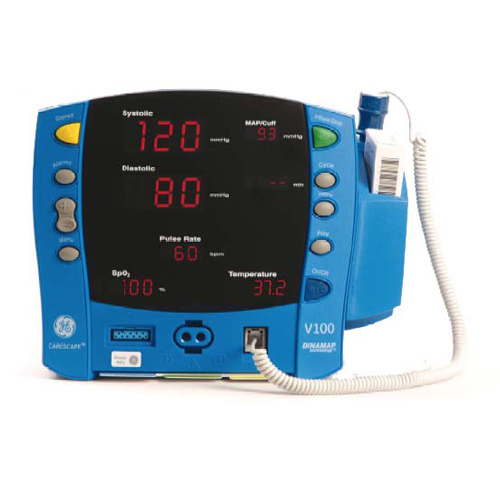 GE Dinamap Carescape V100 Features
The GE CARESCAPE V100 monitor can go with you from one patient to the next, enabling you to capture vital signs on all your patients using a single, mobile vital signs monitor. With speed, accuracy and connectivity, the Carescape V100 monitor helps you manage Clinical information logistics by collecting the right information at the point of care, and presenting it wherever it is needed. So you can make fast, quality care decisions informed by relevant, current clinical intelligence.
By combining fast determination times with an advanced algorithm, the GE Dinamap V100 monitor helps ensure patient comfort while maintaining a high standard of clinical accuracy. It also includes the same advanced parameters and algorithms as other higher acuity GE monitors, ensuring measurement consistency across all care areas.
With non-invasive blood pressure determination times as fast as 14 seconds and the clinical accuracy of embedded GE DINAMAP technology, the GE V100 monitor delivers the speed and accuracy you expect. Common tasks require only one step, making it fast and easy to use. Plus, connectivity to the GE Centricity EMR, CareFusion Nursing Data Collection and various other electronic health record systems creates a seamless patient record regardless of where care is being delivered.
Configurations:
NIBP/Rec (standard)
NIBP/SpO2
NIBP/SpO2/Temp
Options:
Nellcor SpO2
Massimo SpO2
GE Dinamap Carescape V100 Specifications
Alaris Turbo-Temp Specs
Scale °Fahrenheit (F); °Celsius (C)
Range
Predictive mode Max: 41.1°C; 106.0°F Min: 35.6°C; 96.0°F
Monitor mode Max: 41.1°C; 106.0°F Min: 26.7°C; 80.0°F
Monitor mode accuracy ±0.1°C; ±0.2°F
Printer Spec
Printer type: Thermal dot array
Resolution: 384 dots/inch horizontal
Paper type: The paper roll used by the printer must be compatible with GE PN 770137.
Languages printed: English, German, French, Italian, Spanish, Portuguese (Brazil and Portugal), Hungarian, Polish, Czech, Finnish, Swedish, Danish, Dutch, Nor- wegian, and Slovak
Battery Specs
Capacity: 6V; 3.3 Ahr sealed lead acid battery protected by internal auto-resetting fuse and thermal protection
battery Life
8.1 hours with a usage scenario of: NIBP determinations every 15 minutes with SpO2 and temperature active. 11.5 hours non-SpO2 versions with a usage scenario of: NIBP determinations every 15 minutes with temperature active.
Charge time: Approximately 5 hours from full discharge when the monitor is off. Approximately 8 hours when the monitor on.
For more NIBP Monitors, please click here.
For more products by GE, please click here.
Do you use a GE NIBP Monitor? Do you like the usability? Is there anything you would change? Comment below and let us know!