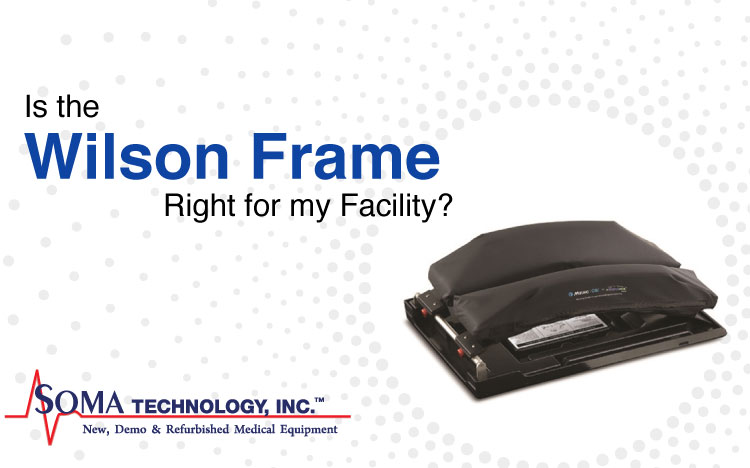 Is the Wilson Frame Right for my Facility?
Even some of the most experienced biomedical engineers need help choosing equipment and they defer to medical equipment sales representatives. Our team of sales representatives can help you decide if the Wilson Frame is necessary for your medical facility, or if your individual specialized field can benefit from having one of these on the surgical tables. Click to continue reading more about the Wilson Frame.
Why is the Wilson Radiolucent Frame Necessary?
Frames are necessary in that they are used to stabilize surgical tables. The stabilization allows procedures to be safer, and to do more specialized procedures like a laminectomy or a microdisectomy. The stabilization of this table is necessary for the surgeons to have a safe environment for operate. Any mishaps in equipment can prevent the patient from recovering in a timely manner. Safe incisions and surgeries are far more successful than ones that may not be as closely monitored. When a surgery is not closely monitored, there is an increased risk of a sepsis infection. Sepsis is when the body poorly reacts to an infection and releases chemicals into the blood that threatens the structure and systems of organs. By having a radiolucent frame, surgeries can be practiced in a safe environment.
What is a Laminectomy?
A laminectomy is when a surgeon removed part of the lamnia. The lamnia is the part of the spinal column that encloses the spine in a bone like material. A laminectomy excises part of the spinal canal. A laminectomy is commonly used to relieve pain from spinal stenosis. Spinal stenosis happens when the spinal canal becomes too slim and touches the nerves of the spinal cord. The lamnia is widened to reduce pressure from the spinal column. The Wilson frame is also used in microdisectomy procedures.
What is a Microdisectomy Procedure?
A microdisectomy procedure is performed on patients who suffer from herniated lumbar disks. A herniated lumbar disc is when the soft center protrudes through the outer wall and the gel is being squeezed through the opening. If this disc comes in contact with a spinal nerve, the patient will feel severe pain. Symptoms of this include back pain, a numb feeling, or leg pain. This can happen in either of the two lumbar discs which are located below the waist. sometimes, pain becomes so bad that surgery is a necessity. The surgeon will work to remove parts of the disc so that the spinal nerve does not have as much pressure on it. Over 80% of people will feel better after having a microdisectomy.
Wilson Plus Radiolucent Frame 
The Wilson Plus Radiolucent Frame is a stabilizing machine that helps in fortifying the surgical table. This is used in maintaining patients in a flexed position for Laminectomy, Decompression, Disc Surgery and Microdisectomy procedures. There are two models for the Wilson Plus. One model is designed to fit on the Mizuho OSI modular spine frame to maximize hip flexion and minimize lordosis when used in conjunction with the leg sling. The other model is the Wilson Plus Universal Design which is used on modular table systems and to safely position patients without lifting them. Features of the Wilson Plus Radiolucent Frame include, a 360 degree movement of unobstructed radiolucency. Other features include lordosis control, ShearGuard gel pads, an easy to use crank system, and convenient transfer and storage. The weight of the frame is 40 pounds, with a 6 inch heigh of lateral adjustment of pads. The Wilson Plus frame can hold a patient of up to 300 pounds.
Model Fit for the Mizuho OSI
The Wilson Plus Radiolucent frame is specifically used on the Mizuho OSI. It helps for maximum hip flexion and minimum lordosis by using the designated leg slings. Mizuho is one of our most trusted brands, and we have many surgical tables available by them.
Mizuho OSI 5943 Spinal Surgery Top – Jackson Table
The
Mizuho OSI 5943
Spinal Surgery Top is one of our most widely requested items, in addition to the
Hana Table
. This spinal surgery top has a carbon fiber construction with an open frame design. There are many features including a carbon fiber frame for complete radiolucency. Other features include unrestricted C-arm access incase there needs to be images take of the patient while they are in surgery.There is a 360 degree patient rotation option and can be used in conjunction with the radiolucent imaging top. The lateral tilt is 25 degrees in both directions, with a hand pendant of the advanced control base for which control the height, lateral tilt, and reverse and Trendelenburg positions. The open frame reduces vena cava compression, minimizes epidural venous bleeding and improves visualization at the surgical site. There are customized support pads to enhance positioning patients with varying body types. The patient weight capacity if 500 pounds. The length is 64 inches, and can be extended to 102 inches.
Purchasing a Wilson Frame
At Soma Technology we have a dedicated team of sales representatives with many years of medical sales experience. Each representative has been thoroughly trained and has experience in outfitting, hospitals and surgery centers with medical equipment. Please click here to look up the sales representative for your area. You can also call 1-800-GET-SOMA, or email [email protected] for a quote request. You can also request a quote through our website. Make sure to ask our sales representatives about the other frames that we also sell. As well, we sell many other products and medical equipment units to outfit surgery centers, de novo projects as well as hospitals and physician's offices and clinics. As well, please ask about our rental and rent-to-own options.
Final Thoughts
Have you ever used a Wilson Frame? Would you say that this piece fo equipment is necessary? How would you rank it in comparison to other pieces of equipment? Do you like the Mizuho brand? Have you ever used either of the Mizuho OSI 5943 Spinal Surgery Jackson Table, or the OSI Hana table? Is there a different piece of equipment or brand that you would recommend? Comment below!