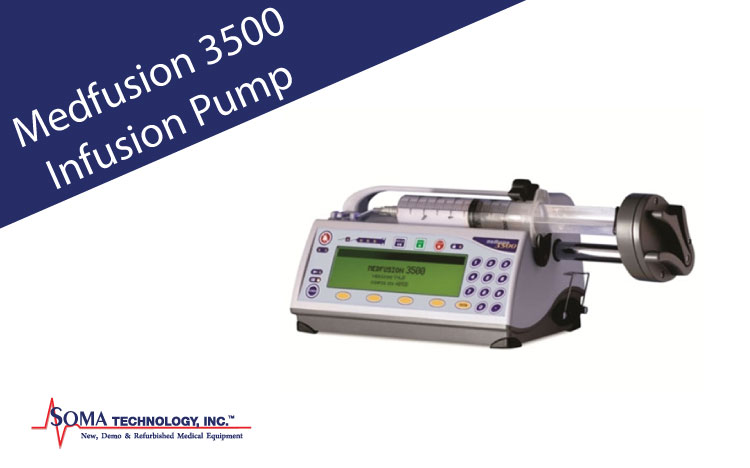 Medfusion 3500 Infusion Pump Featuring Post Occlusion Bolus Reduction
We are in the full swing of flu season. This means that hospitals will have an uptick in the number of patients that need infusion pumps. Infusion pumps work in that they deliver medication, fluids, saline, and nutrients into a person who cannot ingest these items otherwise. The Medfusion 3500 syringe pump is a great choice to administer fluids. Click to read more about this pump.
Medfusion 3500 Infusion Features
The 3500 has many technological features. The benefits of this technology include programmable dose limits, rapid occlusion detection, post occlusion bolus reduction, and it can connect to patient data management systems. There are programmable safety limits, intelligent pressure monitoring, and an ergonomic design. This machine is easy to use and compatible with an MRI. The battery can last up to 10 hours on one charge. This machine can be placed on a table or mounted to a pole.
Medfusion 3500 Syringe Pump Specifications
This machine is relatively lightweight at just under 4 pounds. Delivery modes include factors such as body weight, mass, volume over time, custom dilution and intermittency. There are a total of 13 delivery options.
Requesting Any Syringe Pump
We have a wide variety of syringe and infusion pumps available on our site for requests. Click here to find the sales representative that serves your region. Each sales rep can be reached at 1-800-GET-SOMA, or by their direct line. They can also be emailed at [email protected]. Call today, or email for a quote within 24 business hours!
Infusion Pump Spare Parts
We have many parts available and in stock for infusion pumps. An order can be placed on our parts website. If you would like to place an order, you can either do so on the website, email [email protected], or directly call our Parts Department at 1-860-578-1033.
Other Infusion Pumps
Medfusion makes a variety of different infusion pumps. The 3500 is the mid model, with the 400 being a bit more technologically advanced and newer. They feature the same design, however, the Medfusion 4000 is a bit larger. Ask your sales representative which one will work better for your medical environment.
Final Thoughts
Have you ever used this infusion pump? Are there other pumps that you enjoy using? Are there any features that you would change? Do you have a brand that you trust more than others? Comment below!