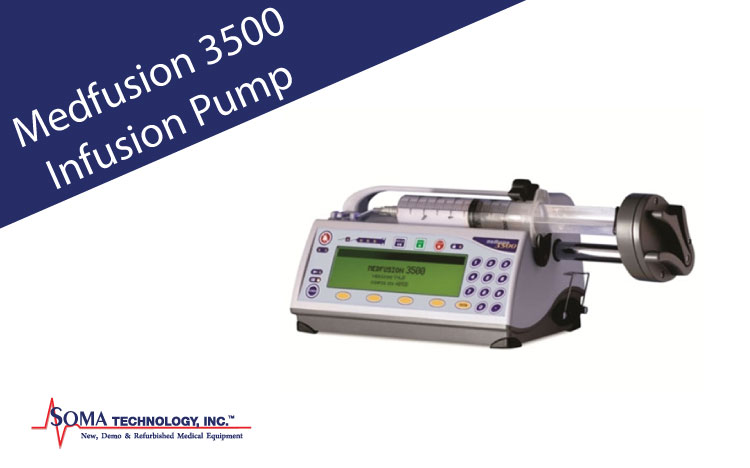 Medfusion 3500 Syringe Pump
Syringe pumps are used in a variety of hospital, clinical, and surgery center applications. We pride ourselves at Soma Technology on only stocking syringe pumps from reputable and reliable original equipment manufacturer's. The Medfusion 3500 Syringe Pump is one of our highly requested items for both rentals and owning.
Medfusion 3500 Syringe Pump Features
There are many technological features on this 3500 syringe pump.  It is designed to safely deliver medications and fluids to patients in a controlled environment. The features include programmable dose limits, rapid occlusion detection, post-occlusion bolus reduction, and connectivity with patient data management systems. This machine is compatible with MRIs, accepts all syringe sizes, and can be easily mounted to a pole for easy transport.
The Medfusion 3500 syringe pump is capable of the smart safety limits and can record these events. This model comes with intelligent pressure monitoring and a rapid alarm response time. A horizontal design allows for a single syringe barrel and can handle loading all syringe sizes.
Medfusion 3500 Syringe Pump Specifications
This pump is easily transported between patient rooms. The model 3500 is known for its user-friendly easy-to-use ergonomic horizontal design. This ergonomic design allows for single-handed syringe loading onto the pump. There are 13 delivery options including loading dose, bolus dose, standby, volume limit, and KVO rate. There is an internal rechargeable battery with optional external DC input.  This machine may be used in MRI rooms.
Requesting a 3500 Syringe Pump
Our knowledgeable team of sales representatives are willing to work with you for all of your medical equipment needs. They can be contacted at [email protected], or at 1-800-GET-SOMA.
Medfusion Spare Parts
As with all of our products, we stock the spare parts in our large parts inventory at www.somamedicalparts.com. We currently house case handles, plungers, bottom housing, tube holder and more. To order, please fill out the online form or email, [email protected], or call 1-860-578-1033.
Final Thoughts
Have you ever used a Medfusion 3500 syringe pump? Are there features on it that you enjoy, or some that you would change? Do you use any other Medfusion products? Comment below!