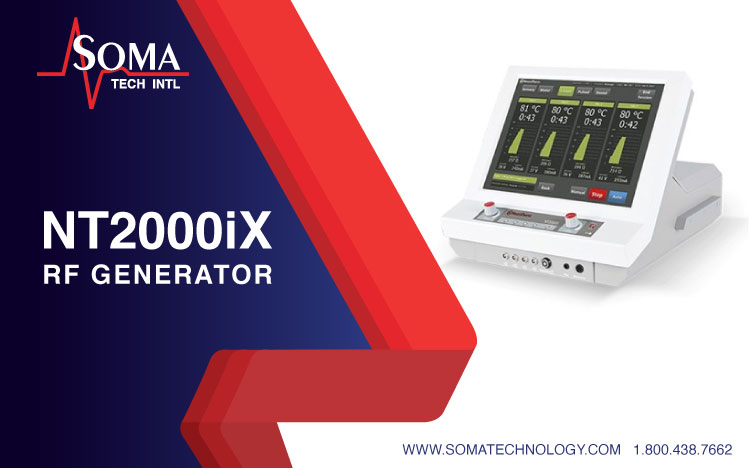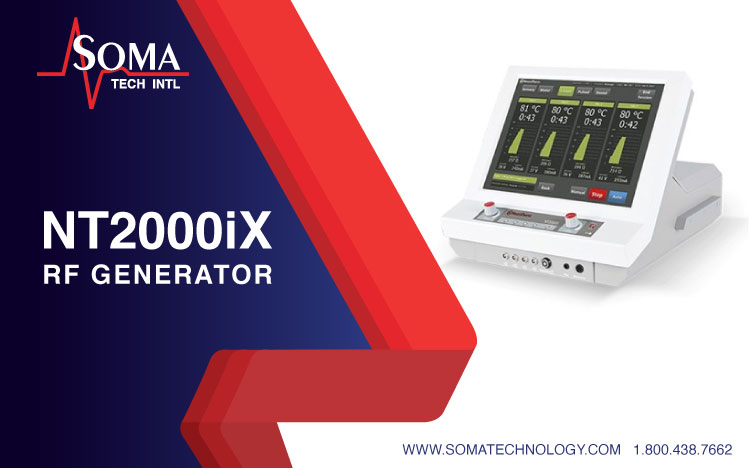 HOW IS THE NEUROTHERM RF GENERATOR USED IN THE MEDICAL FIELD?
The Neurotherm NT2000iX is a pulsed radiofrequency (PRF) generator that is a therapeutic modality with many potential applications in pain management. The application of PRF is a treatment for many clinical conditions such as trigeminal neuralgia, complex regional pain syndrome, chronic postsurgical pain, cancer pain, hyperhidrosis and facet joint pain requiring ablation of different nerve locations. A variation of conventional continuous radiofrequency (CRF), which has been in use since the mid-1970s, PRF offers the advantage of pain control without the tissue destruction and painful sequelae associated with CRF. The use of a pulsed radiofrequency like the Neurotherm NT2000 is non-neurodestructive and therefore less painful technique.
UNDERSTANDING THE MECHANISM OF A RADIOFREQUENCY GENERATOR
Alternating electric current at various voltages is passed through tissue to generate heat. An electrosurgical unit (ESU) consists of a generator and a handpiece with one or more electrodes. Electrosurgical generators can produce a variety of electrical waveforms. As these waveforms change, so do the corresponding tissue effects.
Pulsed radiofrequency is unique in that it provides pain relief without causing significant damage to nervous tissue. Although the mechanism by which PRF controls pain is unclear, it may involve a temperature-independent pathway mediated by a rapidly changing electrical field.
EXAMPLE OF RADIOFREQUENCY
Radiofrequency ablation (RFA), also called rhizotomy, is a nonsurgical, minimally invasive procedure that uses heat to reduce or stop the transmission of pain. As a result, radiofrequency waves ablate, or "burn," the nerve that is causing the pain, essentially eliminating the transmission of pain signals to the brain.
In addition to neurotomy, radiofrequency ablation (RFA) for destruction of tumor tissue and pain control is widely used for cancer patients. It has been reported that an application of RF to a trigger point in soft tissue results in a good outcome of pain control. Thus, RF is becoming more common as a treatment modality for pain control for various reasons.
NEUROTHERM RF GENERATOR FEATURES
The Abbott Neurotherm NT2000iX RF generator is designed to deliver lesion, pulsed or pulsed dosed treatments to painful nerve sites for chronic pain management. Its fully independent NT20000iX RF amplifiers enable real-time temperature monitoring and reduce the potential for unwanted patient stimulation. Therefore, the system is designed for ease of use and to give you more control during RF ablation procedures.
4 independent lesion capability.
Wireless remote functionality.
Dedicated Simplicity lll single cable output.
Full touch screen operation, and improved interface.
Patient & Physician record keeping options.
NT2000iX RF GENERATOR SPECIFICATIONS
Four dedicated RF amplifiers for simultaneous RF energy delivery.
Independent procedure timers.
Responsive stagger start functionality.
CONTROLLED
Make fine adjustments with manual stimulation and RF control knobs.
Pre-load custom physician settings, patient profiles and site labels to streamline procedures.
Thermal lesion, pulsed and pulsed dosed radiofrequency capabilities.
EASY TO USE
Work with ease on a 15-inch touch screen with intuitive operator prompts.
Perform specialty procedures with preprogrammed, dedicated software algorithms.
Simplify with Bluetooth wireless technology for printing and mouse control.
DIMENSIONS
Size: 17in (43.18 cm) x 15in (38.1 cm) x 14in (35.56 cm)
Weight: 50 lbs (22.68 kg)
Touchscreen: 14″ diagonal
FINAL THOUGHT
The emergence of pulsed radiofrequency technology represents a promising step toward treating complicated pain conditions. As the evidence in support of PRF accumulates amongst medical professionals, it is likely that its potential to be applied more broadly will also continue to increase.