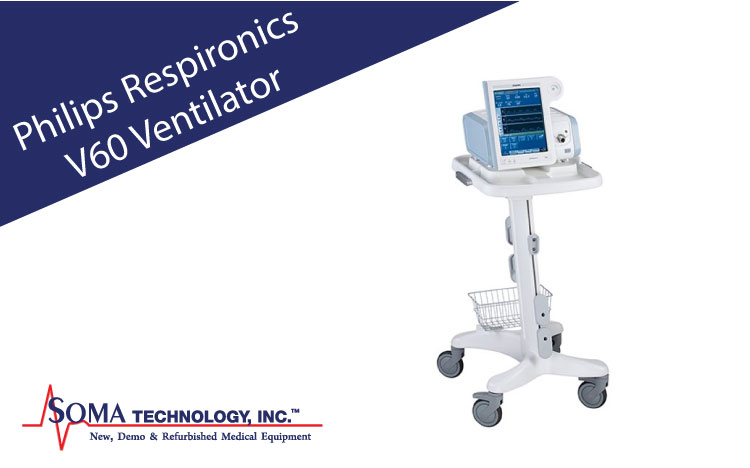 Philips Respironics V60 Ventilator
Ventilators are essential to respiratory health, and to those who cannot breathe on their own. Philips is a trusted and respected brand that controls much of the medical equipment market space. Soma Technology only refurbishes equipment from top suppliers. The Philips Respironics V60 is one of our best selling ventilators. Click to read more!
Philips Respironics V60 Ventilator Features
The V60 has many technological features. These features include high-resolution graphics, internal 6-hour battery, CPAP, and Respi-Link.
Respironics V60 Specifications
This machine can come on an optional cart for easy transportation. The total weight is 80 pounds. The battery can last for up to 360 minutes. The modes are continuous positive airway, spontaneous timed backup, pressure control ventilation, and average volume assured pressure support.
Requesting a V60 Ventilator
If you have enjoyed reading about the V60, and are interested in more information, please contact one of our sales representatives. They have experience outfitting hospitals, surgery centers, and clinics. They also sell equipment for physician's offices. You can either contact them directly by their number or email, or by 1-800-GET-SOMA, or [email protected].
Ventilator Spare Parts
Soma Technology, Inc. proudly stocks spare parts for all of the units that we sell. We have many parts available and in stock. If you're interested, an order can be placed on our medical parts website. If you would like to place an order, you can either place your order online, email [email protected], or call our Parts Department at 1-860-578-1033.
Final Thoughts
Have you ever used this ventilator? Do you like using the features on the V60? Is Philips a brand that you trust? Would you recommend this ventilator to your materials manager? Comment below!