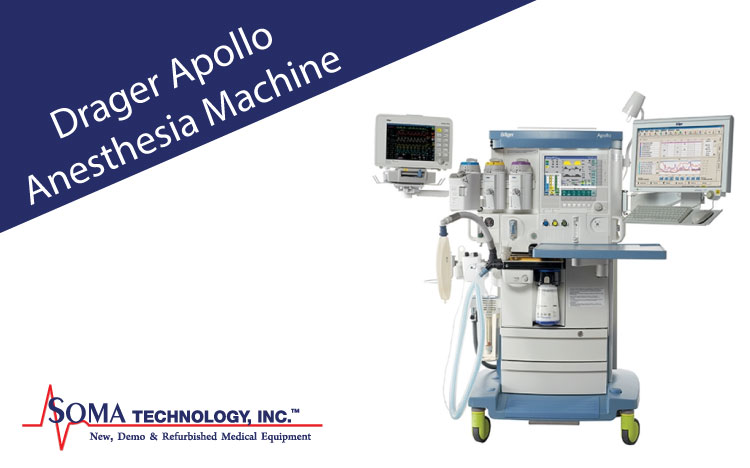 Drager Apollo Anesthesia Machine Featuring Gas Monitoring
Anesthesia machines are centrally integrated into an exceptional patient experience for surgery. It allows the patient and surgeon to both be safe. The patient is sedated and has gas monitoring so the anesthesiologist can safely monitor the patient. The surgeon is also protected by not having unwanted thrashing or movement from the patient while being operated on with sharp materials or electrosurgical units. We recommend the best medical equipment, and that would be the Drager Apollo. Click to read more about the Drager Apollo.
Drager Apollo Features
This Apollo anesthesia machine has many technological features. Features include user friendly ergonomics, a unique breathing bag arm design, automatic self tests, advanced ventilation, and a consistent use of low-flow anesthesia techniques.
Drager Apollo Specifications
This machine weighs around 265 pounds and comes on four casters that make it easily transportable. An integrated power backup is at least 30 minutes. There are a few different types of gas supply modes and ventilation modes.
Requesting an Anesthesia Machine
Click here to find the sales representative that serves your location. We also have anesthesia machine rentals available with different rental programs like short-term, long-term, and rent-to-own. Not only do we offer anesthesia machine rentals, but we also offer many other medical equipment rentals for the products we sell. Each sales rep can be reached at 1-800-GET-SOMA, or by their direct line. They can also be emailed at [email protected]. Call today, or email for a quote within 24 business hours!
Anesthesia Machine Spare Parts
Soma Technology has a large list of anesthesia machine parts on our Soma Medical Parts division's medical parts website. If you would like to place an order for anesthesia parts, you can either do so on the website, email [email protected], or directly call our Parts Department at 1-860-578-1033.
Final Thoughts
Have you ever used this anesthesia machine before? Are you a fan of Drager products or is there another medical equipment brand that you like? Are there features on this anesthesia machine that you would keep, or some that you would change? Comment below!