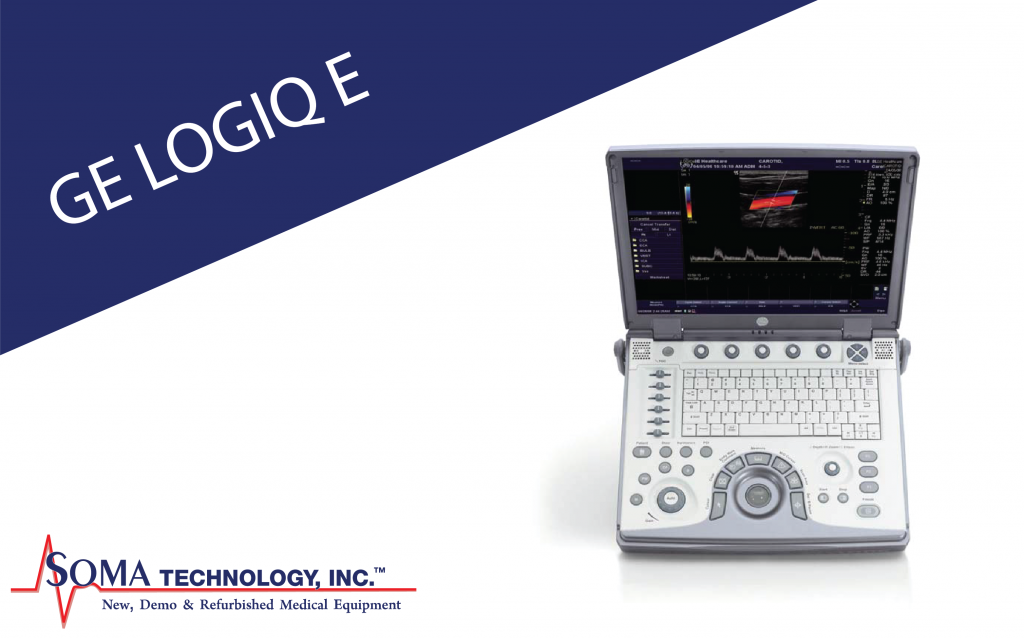 GE LOGIQ E Portable Ultrasound System
The GE LOGIQ E is one of the most widely used portable ultrasounds in facilities around the world. The LOGIQ E is a laptop style device that fulfills cost with shared service capabilities for OB/GYN, GI, cardiovascular, abdominal, and point-of-care applications. It is designed with a range of customizable capabilities to speed workflow and meet your facility's exact needs. This portable ultrasound machine can help with needle guided injections, MSK, vascular, venous, and orthopedic procedures.
The LOGIQ E is an affordable solution as a quality machine that doesn't compromise its size for ability to function. Aiding clinicians in providing better, more accurate diagnostic imaging, the LOGIQ E system integrates groundbreaking technologies. It features TruScan architecture, PDI (Power Doppler Imaging), Panoramic images (up to 60cm), split screen, SmartScan, and ComfortScan technologies. Combining these technologies into one system helps perform in diagnostic imaging applications. These applications include; anesthesia, head and neck, musculoskeletal, rheumatology, and more.
Did you know that the GE LOGIQ E is fully digital? It allows exporting to an external hard drive, network, flash drive, and DVD. Weighing only 10.1 pounds, this system is made for portability. It serves as a reliable tool when conducting on-site scans. This system is loaded with anatomy specific presets and the ability to customize the display to show only the functions needed. Some of these functions include the ability to manually optimize or automatically optimize your images through anatomy specific image settings. This helps provide improved quality and resolution of your images.
Features
15-inch high-resolution LCD screen.
Large hard drive capacity.
Wireless LAN.
B-Mode, M-Mode, Anatomical M-Mode.
Patented CrossXBeam technology.
Coded Harmonic imaging.
Color Doppler and Color Flow.
Power Doppler.
B-Steer technology.
Accepts electrical power (110-240 Volts, 50/60 HZ).
Specifications
Compatible Probes
4C-RS Wide Band Convex Probe.
3S-RS Wide Band Phase Probe.
8L-RS Wide Band Linear Probe.
12L-RS Wide Band Linear Probe.
E8C-RS Wide Band Microconvex Probe.
8C-RS Wide Band Microconvex Probe.
i12L-RS Wide Band Linear Probe.
Transducer Types
Convex Array.
Microconvex Array.
Linear Array.
Phase Array.
Dimensions
Height: 2.49 In (6.1cm).
Width: 13.88 In (34 cm).
Depth: 11.71 In (28.7 cm).
Weight: 10.1 Lbs (4.6 kg).
Applications
Abdominal.
Cardiology.
Obstetrical.
Gynecological.
Musculoskeletal.
Vascular.
Urological.
Small Parts and Superficial.
Pediatric and Neonatal.
Intraoperative.
Operating Modes
B-Mode.
M-Mode.
Color Flow Mode (CFM).
Power Doppler Imaging (PDI).
Continuous Wave Doppler (Optional).
Pulse Wave Doppler (PWD).
Software Options
Easy 3D.
DICOM 3.0 Connectivity.
LOGIQ View.
Hardware Options
Battery Pack.
3 Pedal Foot Switch.
Docking Cart.
Simple Cart.
CDW (Optional).
USB ECG (AHA / IEC) (Optional).
Inputs and Outputs
Outputs.
Connectors

USB (Footswitch, DVD-RW, Video Printer).
DC Power input.