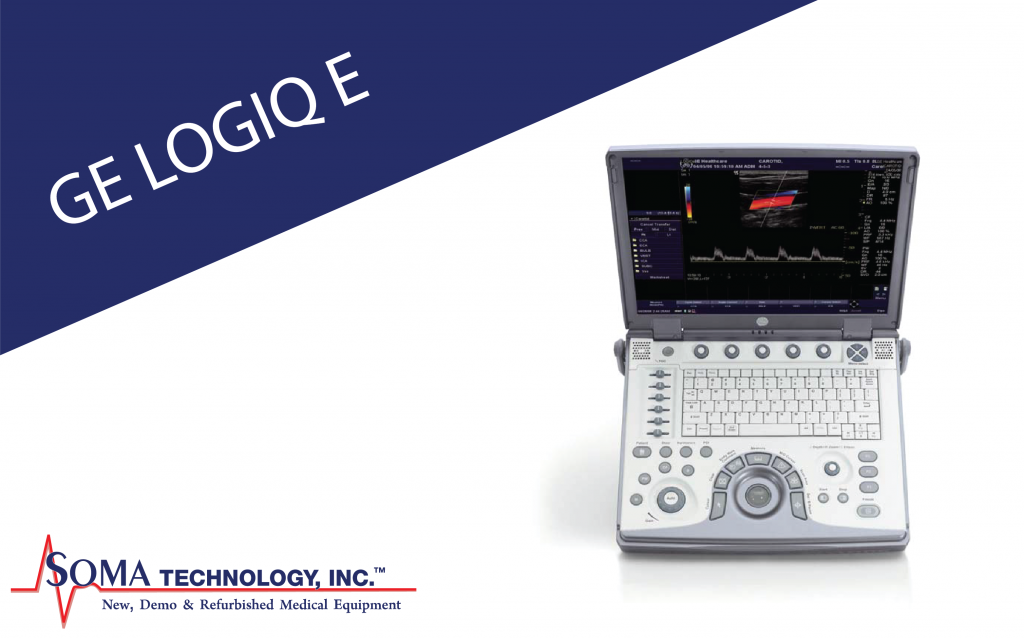 GE Logiq e Portable Ultrasound Machine
Ultrasounds are used in a variety of medical settings including hospitals, doctor's offices, clinics, surgery centers and more. The GE Logiq e Portable Ultrasound Machine is one of our best selling ultrasounds. Soma Technology prides itself on stocking the best medical equipment in the healthcare market. Ultrasounds use the bouncing of sound waves to create an image of the inside of the body being scanned. The white spots are the refracted sounds that are from calcified materials or hardened tissues. The ultrasound will show a graphic of tumors, cysts, growths, gallstones, and more.
GE Logiq e Features
The GE Logiq e is an affordable machine that is used in a variety of medical specialties such as, OBGYN, GI, cardiovascular, urology, nephrology, and more. The Logiq e features a 15-inch liquid color display screen and has the ability to take 325 frames per 15 seconds on standard CINE memory. The hard drive is 40 GB with external DVD R/W storage. The database is able to store patient information.
GE Logiq e Specifications
This machine is portable, weighing a little over 10 pounds. This makes it easy to bring the laptop-style machine to and from patient rooms. Wireless LAN support, 1 probe port, and rear handle are design specifications. An alphanumeric keyboard, ergonomic keys, recording keys, backlit keys, all make usage relatively easy. There are four transducer types; convex array, micro-convex array, linear array, and phase array. Hardware options include a battery pack, 3 pedal foot switch, docking cart, simple cart, CWD, or a USB ECG.
Requesting a GE Ultrasound
We have a dedicated sales team willing to work on equipment requests, rentals, and expansion projects. Our sales representatives have experience selling a variety of GE products, in addition to our entire product listing. To directly contact our sales directors, please click here, or they can be reached by email at [email protected], or at 1-800-GET-SOMA.
GE Spare Parts
Soma Technology stocks parts for all machines we sell. We have a large stock of GE parts on our website. To purchase parts, please fill out your choices online. If you would like to order from our Medical Equipment Parts Department, they can be reached at [email protected], or at 1-860-578-1033.
Final Thoughts
Have you ever used a GE Logiq e ultrasound machine? Are there features on it that you enjoy using, or some that you would change? Is there another ultrasound that you prefer to use? Comment below!