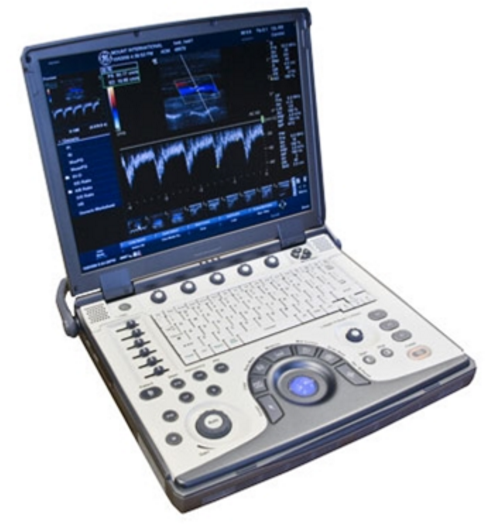 GE Logiq e
The GE LOGIQ e is the leading portable ultrasound machine in its class. The LOGIQ e provides the clinical confidence needed at the point of care. Breakthrough technologies allow for customizing of the system to meet your exact needs. The powerful GE LOGIQ e machine dispels previously held mindsets about portable ultrasound image quality, proving once and for all that image quality does not need to be compromised where portability is a must. This highly refined portable ultrasound machine can be upgraded to a full shared service platform offering Cardiac, Vascular, Neurological, MSK, OB/GYN, and Urology studies and more at your site, eliminating the need for multiple systems at different locations. This makes it possible to provide precise exacting images no matter where you are.
Did you know that the GE LOGIQ E is fully digital? It allows exporting to an external hard drive, network, flash drive, and DVD. Weighing only 10.1 pounds, this system is extremely portable. It serves as a reliable tool when conduction on-site scans. This system is loaded with anatomy specific presets and the ability to customize the display to show only the functions you need. Some of these functions include the ability to manually optimize or automatically optimize your images through anatomy specific image settings. This helps provide the improved quality and resolution of your images.
GE Logiq e Specifications:
15-inch high-resolution LCD.
Large Hard Drive Capacity.
USB.
Wireless LAN.
B-Mode, M-Mode, Anatomical M-Mode.
Patented CrossXBeam technology.
Coded Harmonic Imaging.
Color Doppler and Color Flow.
Power Doppler.
B-Steer technology.
Accepts electrical power (110-240 Volts, 50/60 HZ).
Optional Probes:
Cardiac and abdominal applications.
Abdominal and OB/GYN applications.
Neonatal, pediatric, and nerve block applications.
Vascular, small parts, musculoskeletal, nerve block, and pediatric applications.
Interoperative applications.
Endocavitary Probe Gynecology and Urology Applications.
Other Options:
CW Doppler, DICOM, Easy 3D, Logiq View, Foot Pedal, USB ECG, External DVD-R, Portable docking station.
Available Transducers:
12L-RS, 8L-RS, i12L-RS, 4CRS,8C-RS, e8c-RS, 3S-RS.