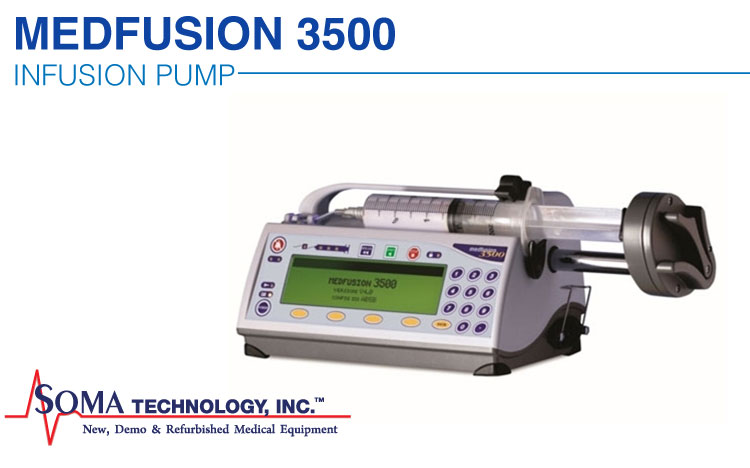 Medfusion 3500 Infusion Pump Featuring a Drug Library
The Medfusion 3500 is one of our most widely requested items. The syringe pump is able to safely and effectively deliver liquids and medicine to patients. Click to continue reading more about the Medfusion 3500 Syringe Pump, and how it can be useful in treating patients.
Medfusion 3500 Features
There are many advanced features on the Medfusion 3500. The benefits include programmable dose limits, rapid occlusion detection, post-occlusion bolus reduction, connectivity to patient data management systems, MRI compatibility and this machine can be easily mounted to a pole. Other features include smart programmable safety limits, intelligent pressure monitoring, ergonomic design, and enabled communication with an existing patient data management system.
3500 Specifications
This pump weighs a little under 4 pounds and is 5.1 x 10.5 x 5.5 inches. THere are 13 delivery options including loading dose, bolus dose, standby, volume limit and KVO rate.
Requesting a Syringe Pump
We have a wide variety of syringe and infusion pumps available on our site for purchasing, as well as for rentals. Click here to find the sales representative that serves your area. Each rep can be reached at 1-800-GET-SOMA, or by their direct line. They can also be emailed at [email protected]. Call today, or email for a quote within 24 business hours!
Syringe Pump Spare Parts
We have many parts available and in stock for the infusion pumps that we sell. An order can be placed on our parts website. If you would like to place an order, you can either do so on the website, email [email protected], or directly call our Parts Department at 1-860-578-1033.
Final Thoughts
Have you ever used the Medfusion 3500 infusion pump? Have you ever used the Medfusion 4000 pump? Is there a brand that your hospital or facility relies on? Would you say that Medfusion is a trusted brand? Would you recommend Medfusion to a colleague? Comment below!