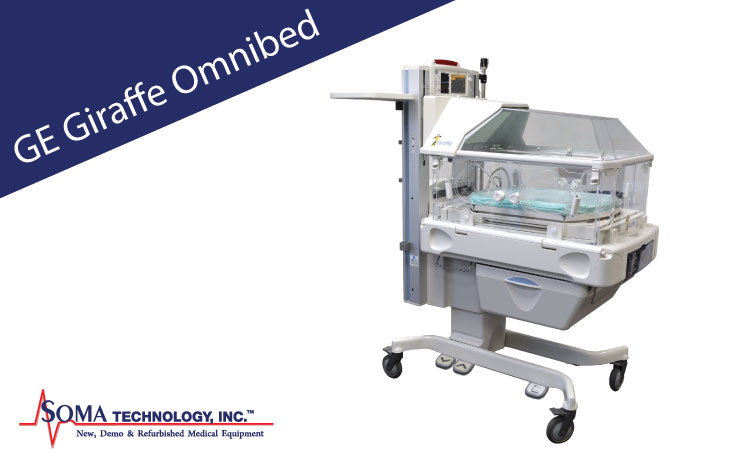 GE Giraffe OmniBed Incubator
Summer is the time of the year when the most babies are born. Make certain that your facility is fully stocked for the increase in babies that will be born. Soma Technology prides ourself on only refurbishing equipment from the best manufacturers in the market. The GE Giraffe OmniBed is one of the best models currently available. It has two control modes when used as either an incubator or an infant warmer. When the compartment is closed, the Giraffe Incubator controls the temperature on the inside. This compares air temperatures from the probe in the compartment wall to a setting you enter using the control panel. Clinicians can also use this machine to compare the temperature of the baby's skin instead of the wall inside the compartment. With the canopy of the OmniBed open, this unit transforms into an infant warmer using a radiant heater.
GE Girare OmniBed Features
The GE Giraffe has many features. Features include air curtains to protect from heat loss, radiant warmer, a consistent and controlled thermal environment. Improvements from other incubators include improved access to the baby, a less stressful environment for the patient and family, a 360-degree rotating patient mattress, and drop down removable doors.
GE Giraffe OmniBed Specifications
This piece of equipment weighs a bit under 330 pounds and is easily transportable on lockable casters. The mattress is about 25.5 x 19.2 inches and sits at about 33 to 43 inches, making it ideal for an adult to easily place the baby inside. A full-color display is also a touchscreen. There are 8 tubing ports.
Requesting a GE Giraffe Incubator
Soma Technology carries a wide variety of incubators. We have a team of sales representatives that can help with product knowledge. Our sales team is willing to work on any request for electrosurgical units, and for any of our other products. Our sales representatives are experienced in outfitting many NICUs. Click here to find a sales representative for your area. Each sales rep can be reached at 1-800-GET-SOMA, or by their direct line. They can also be emailed at [email protected]. Call today or email for a quote within 24 business hours.
Incubator Spare Parts
Soma Technology proudly stocks spare parts for all the incubators and infant warmers that we sell. We have many parts available and in stock ready to ship. Any order can be placed on our parts website. If you would like to place an order, you can either place your order online, email [email protected], or call our Parts Department at 1-860-578-1033.
Final Thoughts
Have you ever used a GE Giraffe OmniBed before? Are there features on it that you enjoy, or some that you would change? A great option instead of the OmniBed is the GE Panda. Let us know what you think. Comment below!