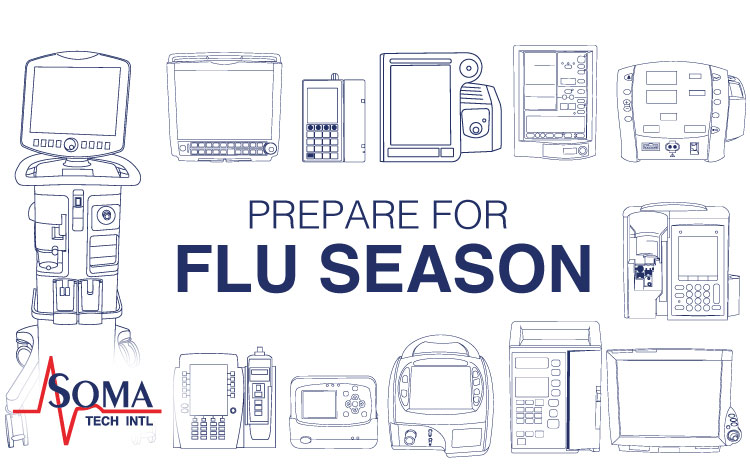 Intro
As we approach the fall and winter months, it's important to remember to keep ourselves healthy during these seasons. Especially with flu season being around the corner, we want to give you some quick tips on how to stay healthy and happy. Here at Soma Technology, we care about your health and the health of others, so we are offering new and refurbished equipment that you need for this upcoming flu season.
What is the Flu?
The flu, otherwise known as Influenza, is a contagious respiratory illness caused by viruses. it can affect multiple areas of your body, but it mainly infects the nose, throat, and lungs. The severity of the flu varies depending on the person and how it affects them on a personal level. Some cases can be very mild, others are more serious, and in the worst cases it can lead to death. Here are some of the symptoms to look out for:
Fever or chills
Cough
Sore throat
Runny or stuffy nose
Muscle, body, and headaches
Fatigue
Vomiting and diarrhea (this is more common in children)
Flu Vaccine
The best way to prevent the flu, according to the Centers for Disease Control and Prevention (CDC), is by getting the flu shot. The flu spreads by tiny droplets when people with the virus cough, sneeze, or talk. When this happens, the droplets can land in another person's nose or mouth, and even touching the same surfaces can make the virus spread. This is why the flu vaccine is seen as the best way to prevent getting the flu. The vaccine contains a weakened version of the virus so that your body can easily recognize it and be able to build antibodies that help fight the flu if you are exposed.
Rentals
It is impossible to prevent the flu from reappearing every year, but it is possible to be ready to treat the cases that come in with the best equipment available. Many treatments for the flu require medical equipment that Soma offers year-round. The best part is that you don't have to buy this equipment because we offer rental options! The Soma Rental Program allows your medical facility to rent capital medical equipment to help keep your facility to a budget, trial different equipment, and facilitate specific equipment for multiple different procedures.
Soma offers short-term, long-term, and rent-to-own options to help facilitate the equipment your facility needs while still staying within your budget. Offering these three different contracts expands the options your facility can explore. The benefits of renting include avoiding acquisition and maintenance costs on equipment, plus the reduced downtime due to repairs or preventative maintenance. Your medical facility can access equipment without any capital outlay while ensuring the most efficient management of resources. If you are interested in rental options call 1.800.GET.SOMA.
Soma Tech Intl Medical Equipment
The treatment for the flu can require the help of medical equipment depending on the severity. Three machines are used mostly for the treatment of the flu: ventilators, patient monitors, and infusion pumps.
Ventilators
Ventilators are used to pump oxygen into the windpipe to help people breathe. Especially because the flu can affect your airway, it is important to make sure that the patient can breathe in oxygen and pump out carbon dioxide. While the flu can resolve itself, people with compromised immune systems or respiratory ailments might need ventilators when battling the flu.
Siemens Maquet Servo-i: The Maquet Servo I ventilation system can be used on a variety of patients from neonatal,  pediatric, and adults. It has the ability to handle the most acute phases of respiratory distress, through recovery, and to the waning phases of the ventilation process.
Philips Respironics V60: The Philips Respironics V60 Ventilator is an assist ventilator that is intended to augment patient breathing. It is intended for spontaneously breathing individuals who require mechanical ventilation. For example, patients with respiratory failure, chronic respiratory insufficiency, or obstructive sleep apnea
Patient Monitors
Patient monitors are used to monitor patients' vital signs. These monitors can identify blood pressure, SpO2, temperature, and pulse. This is especially important for anyone who has a compromised immune system while battling the flu. Doctors use this to keep track of how their patient is doing.
GE Dash 5000: The GE Dash 5000 is a portable patient monitor. This dash monitor unit can be used to monitor ECG, NIBP, impedance respiration, SpO2, and temperature. This Dash monitor optionally can monitor invasive pressure, BISx, and EtCO2.
Philips IntelliVue MX400: The Philips IntelliVue MX400 patient monitor is designed to suit a broad spectrum of needs with a flexible and modular monitoring system. These MX400s have dedicated configurations for anesthesia, intensive, cardiac, neonatal, and general care environments.
Infusion Pumps
Infusion pumps deliver fluids, nutrients, and medications into the body in a controlled environment. It draws the fluid from a standard bag of intravenous fluid and controls the rate of flow. Patients who are in the hospital for the flu usually need an infusion pump with liquids and medicine to help them fight the flu.
Carefusion Alaris PC 8015: The CareFusion Alaris 8015 PC Unit is the core of the Alaris System. It provides a common user interface for programming infusions and monitoring, which helps to reduce complexity at the point of care. The display uses color to clearly communicate critical programming, infusion, monitoring, and hospital-defined policy information.
Baxter Sigma Spectrum IV Pump: The Baxter Sigma Spectrum IV pump is a small, lightweight, and easy-to-use device. The Sigma Spectrum is compatible with standard gravity IV sets. On battery power, the I.V. pump can last at least 4 hours. Multiple safety features include the Dose Error Reduction Software (DERS) with hard and soft limits, default dose rates, and multiple dosing modes.
Final Thoughts
As flu season approaches, it is very important to keep our health a priority. Don't wait until it's too late, be prepared for the season. For more information about our products, contact us at 1.800.GET.SOMA. You can also send us an email at [email protected] for more information about purchasing, quotes, and rentals!