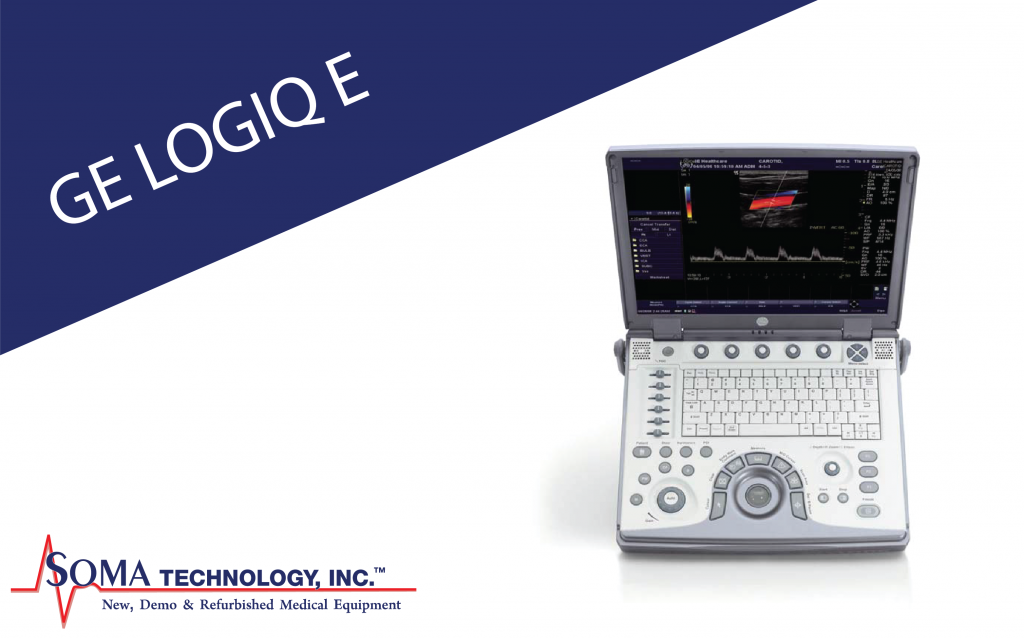 GE Logiq e Portable Ultrasound Machine
Ultrasound machines are used in a variety of different fields. The most common include gastroenterology, nephrology, and obstetrics and gynecology. An ultrasound machine works by emitting ultrasonic waves through tissue, with a picture being composed of the waves that were reflected. The white areas on the screen can show hard tissue, calcification, tumors, and cysts. Soma Technology only refurbishes products from trusted brands like GE. The GE Logiq e is a great choice for a portable ultrasound machine. Click to read more about this product!
GE Logiq e Features
The Logiq e portable ultrasound has many features. This machine has the ability to manually optimize or automatically optimize your images through anatomy specific image settings. This helps provide the improved quality and resolution of your images. Features include a 15-inch color liquid crystal display, a 40GB hard drive, external optimization, adaptive color enhancement, and a patient information database.
GE Logiq e Specifications
The laptop-style structure allows it to be compact and easily transportable. Wireless LAN support is available, as well as CWD support. 1 probe port with micro-connector and rear handle are standard. The keyboard is alphanumeric and has ergonomic hard key operations with integrated recording keys that are backlit. Transducer types that are available for purchase include convex, micro convex, linear and phased array. Hardware options that can be purchased and configured include a battery pack, 3 pedal switch, docking station, and a simple cart.
Requesting a GE Logiq e
We have a dedicated team of representatives that can help with product knowledge. Our sales team is willing to work on any request for ultrasounds, or any of our other products. Our sales representatives are experienced in outfitting many surgical centers, and hospitals. Click here to find the sales representative that serves your area. Each sales rep can be reached at 1-800-GET-SOMA, or on their direct line. They can also be emailed at [email protected]. Call today, or email for a quote within 24 business hours!
The Refurbishment Process
Soma Technology continues to be a leader in refurbished capital medical equipment. Not only does Soma Technology technically refurbish products, we also cosmetically refurbished them as well. Each unit is brought back to original manufacturer specifications through; disassembly, inspection, cleaning, repair, replacement of necessary parts, calibration, and specific cosmetic restoration. These products function in the same way they did the day they left the manufacturer.
Final Thoughts
Have you ever used the Logiq e, or maybe the Logiq i? Are there features on the ultrasound that you would change? Is there another brand of ultrasound machines that you enjoy using? Comment below!