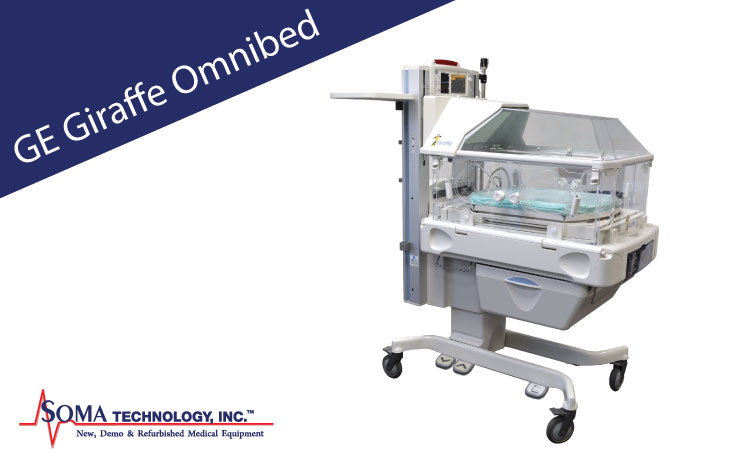 GE Giraffe OmniBed Incubator for Neonates
Soma Technology carries a wide variety of incubators. Incubators are used to warm babies when they cannot generate their own body temperatures. Babies need to be swaddled in blankets and given hats to wear because they cannot control homeostasis. The incubator warms the baby in a safe environment and allows them to have normally functioning bodies without the worry of something happening. Click to read more about how the GE Giraffe Omnibed warms infants.
GE Giraffe Features
This product is exceptionally trusted and regarded as top of the line. The OmniBed features an incubator with air curtain to protect from loss of heat, radiant warmer, consistent and controlled thermal environment, improved access to the patient, a 360-degree rotating patient mattress, and removable doors.
GE Giraffe Omnibed Specifications
This incubator weighs around 330 pounds and can be transported on castors that can be locked into place when being immobile. The mattress can tilt about 12 degrees, and there are 8 tubing access ports. Recovery time is less than 15 minutes.
Requesting a GE Giraffe Incubator
The GE Giraffe is one of our most request incubators. We sell many other types and there are some options that are close substitutes for this product. The GE Panda iRes Infant Warmer is also an excellent choice. We have a team of sales representatives that can help with product knowledge. Our sales team is willing to work on any request for incubators, and for any of our other medical products. Our sales representatives have experience outfitting departments with NICU medical equipment and Labor and Delivery equipment. Click here to find a sales representative for your area. Each sales rep can be reached at 1-800-GET-SOMA, or by their direct line. The sales representatives can also be emailed at [email protected]. Call today or email for a quote, usually within 24 business hours.
OB Equipment Spare Parts
Soma Technology proudly stocks spare incubator parts and accessories and infant warmers that we sell. We have many parts available and in stock ready to ship. Any order can be placed on our parts website. If you would like to place an order, you can either place your order online, email [email protected], or call our Parts Department at 1-860-578-1033.
Final Thoughts
Have you ever used this incubator before? Are there incubators or infant warmers that you prefer to use? Is there a brand that you use because you are loyal to their products? Comment below!